Mitosis is one of those topics that my daughter was taught over and over, but yet as a college instructor students would constantly tell me that had never seen it before.  It isn't a difficult topic to teach, but I think it can be difficult to cement into their brains.
The number 1 reason is we've gone microscopic and that throws kids for a loop.
Most middle school (and even high school) kids and their instructors are not going to have access to quality microscopes.  Since that is the case, I don't suggest rushing out and grabbing prepared slides.  Without a good microscope, the act of looking at slides becomes a lesson in dealing with frustration rather than actually learning.
There are tons of other options!
Idea #1 – Go Digital
My first suggestion for teaching mitosis is to ditch the scopes.  There are lots of great digital alternatives to microscopes.  My favorite is the app by Carolina Biological Supply Company.   The Animal Histology App Lite is free and includes mitosis.  It is available via iTunes on Apple devices.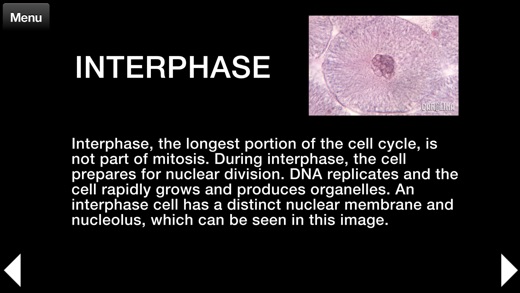 I love this app because it is very similar to what they would see if they were looking in scopes, rather than a textbook that is using an electron microscope or something.  These are much more applicable and if you have access to at least a single scope you can go through a demo for the kids to look at the slides and compare to the app.
Idea #2 – Use Their Hands
Have kids draw.  I know they don't want to and they will have a million excuses, but unless there is a real reason like a disability or injury drawing is a magnificent way to capture and learn about the microscopic world.  They can even make their projects 3-D with yarn,  grab this FREE mitosis worksheet by clicking on the image.
Idea #3 – Get the Big Picture
Help them understand that cell division occurs in real time and understand the role of cell division in the entire life cycle.  This is one of the areas that is universally lacking with students.  Mitosis is only one stage of the entire cell cycle.  In a typical human cell that divides every 24 hours, only an hour of that time is in mitosis.
What is going on the rest of the time?  All of the functions of the cell AND preparation for division.  It really is kind of mind-blowing.
Idea #4- Create Study Aids
After you have shown them pictures, they've drawn what they've seen, you've helped them develop an explanation, and now they have expanded their information by understanding/seeing mitosis as part of a bigger whole.
Have the kids DRAW it again, but make a flip book.  This does a couple of things.  It reinforces that these actions occur in real time and they will need to play close attention to the details that are different at each stage for their book to work correctly.  Who doesn't like a flip book?
Idea #5 REVIEW
Last but not least.  REVIEW REVIEW REVIEW.  Play card games, bingo games, jeopardy games, use task cards, use worksheets, quizzes, etc.  Students will need lots of repetition to make this new vocabulary stick. Click the image to check out my other mitosis resources.