We continue to work on fluency in shape and color recognition.  If we don't use it, we lose it.  So I was inspired to work on shapes, colors, and positional terms with a quick game that I put together in about ten minutes.  Each player gets a shape board.  I created shapes and colors, so each shape is a different color.  If this was a newer lesson on shapes, I would have had all the shapes the same color .
I have a stamp set that the boys love. I got them involved by asking them to pick a stamp. If you don't have stamps you could use stickers or ask the kids to write a letter or make a mark.   If you use my board, we used the smallest stamps in the Melissa & Doug Animal Stamp Set
and they fit inside the shapes.

I created cards to use in this game. The cards indicated the shape or color and where they should put their stamp. I had to read the cards to my kids. For me this was a plus, because I could help them with placement (if needed) and they saw me reading within the context of our world. They pulled the card and I read it. Then they showed me where they were going to put their animal stamp and went to stamping.

The first one to get stamps in all 6 boxes or shapes wins.

This was a great way for us to practice shapes, colors, and positional terms.  This was also a great chance for some assessment by me.  They didn't feel threatened and I got to see what they know. Win-Win.
You can download my board and cards.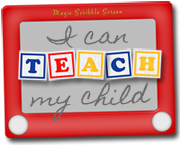 and
Math Monday